Chelan County PUD is located in the geographical center of Washington state at the confluence of the Columbia and Wenatchee rivers. A public power leader, the complex and progressive nature of PUD operations offer a unique mix of challenges and opportunities for employees. It's a great place to work, live and play.
Wenatchee is rated by National Geographic as one of the top 10 mountain towns in the U.S., and is a recreation paradise. Enjoy water sports on the Wenatchee and Columbia rivers, hiking, biking, rock climbing and golf. Downhill and cross-country skiing are just minutes away. The natural beauty of the Wenatchee Valley provides a vivid backdrop to its diversified economy, where the quality of life is high and the climate is moderate with four distinct seasons and 300 days of sunshine a year. It's the best of the Northwest – without the rain.
Schools
The Wenatchee Valley offers parents a range of educational opportunities for their children including public, private and church schools. In September 2009, nine local elementary, middle and high schools were named among the state's "Great Schools," an honor formerly known as Schools of Distinction. Read more. These schools were in the top 5 percent of schools showing improvement in reading and mathematics over the past five years. View demographics, test scores and other information from the state Office of Superintendent of Public Instruction.
Higher education opportunities include a two-year community college and four-year distance learning programs. Wenatchee Valley College offers high-quality transferable, liberal arts, technical/professional, basic skills and continuing education for students of diverse ethnic and economic backgrounds.
Performing Arts and Concerts
The area is home to a variety of theaters and music venues.
Celebrate the magic, the wonder and the beauty of live entertainment at the 490 seat Performing Arts Center or join a lively family of diverse individuals dedicated to sharing the joy of live theater with our community at The Pressroom Theatre.
If you enjoy Beethoven, Mozart, Bizet and Haydn, join the activities of the Wenatchee Valley Symphony – in its 62nd season of concerts. Or visit the Woods House Conservatory of Music, home to 175 students and 15 teachers dedicated to the conservation of music through teaching, concert opportunities and the advancement of music groups, organizations and music education programs.
Town Toyota Center is the area's 4,300-seat events center hosting events such as Grammy-winner Leann Rimes, Disney Live, indoor ice skating and the Wenatchee Wild, a Tier II Junior A ice hockey team.
Explore North Central Washington's heritage from the Ice Age to the present day in our historic Wenatchee Valley Museum and Cultural Center. Discover the rich diversity of the region's arts, sciences and people through exhibits and programs.
Wine Country
Washington's wine country is the fastest-growing cultural sector in the state, producing more wine grapes than any other state in the U.S., except California. Vineyards located in our east side of the Cascades region grow 99 percent of Washington wine grapes.
Travel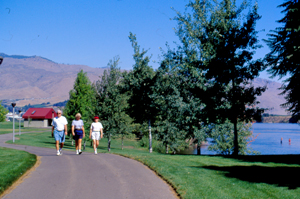 An average one-way commute in the Wenatchee valley is less than 20 minutes. While most commuters drive their own car alone, others carpool or take Link transit and even bike to work.
Chelan PUD bicycle commuters include an individual who bikes most of the year. He makes a 16-mile round-trip commute from his home near Mission Ridge and his route often takes him along the Columbia River and Apple Capital Recreation Loop Trail.
Wenatchee is just 135 miles east of Seattle and 165 miles west of Spokane. Translated into driving time, it's only 2 hours to Seattle and 3 hours to Spokane, and it's a 30-minute flight to Seattle from Pangborn Memorial Airport in East Wenatchee.
Affordable Living
As of July 1, 2011 the average cost of living in Wenatchee for a $75,000 job is on par withthe United States average, and considerably less than most of the larger regional cities. Cost of living as a percentage of the United States average for select cities:
Location
Cost of Living
Percent
Variance to
National Average
Albuquerque, NM
100.3%
0.3%
Dallas, TX
112.7%
12.7%
Denver, CO
108.1%
8.1%
Eugene, OR
106.5%
6.5%
Everett, WA
105.0%
5.0%
Minneapolis, MN
119.1%
19.1%
Phoenix, AZ
103.3%
3.3%
Portland, OR
114.1%
14.1%
Seattle, WA
115.9%
15.9%
Spokane, WA
93.2%
-6.8%
Wenatchee, WA
100.6%
0.6%